Jalandhar Dental Laboratory's porcelain fused to metal crowns are fabricated using the most advanced materials available. Care is taken in trimming the dies, and your cases are quality checked for proper contact points and fits on secondary solid models. Our technicians are trained to provide special attention to proper tooth morphology.

Ceramics
Aesthetic and high quality porcelain restorations built up by artistic craftsmen using the finest dental Ceramics. Layering techniques generating subtle hues and interplay of light dynamics to create nature-like vital characteristics using shoulder porcelain to meet the growing demand for a aesthetics in the cervical margin area.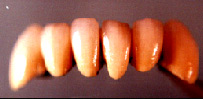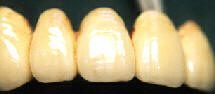 The third generation metal fused to ceramic tissue compatibility being totally hygienic unlimited consistency in shade, being chemically inert in the mouth enabling the accurate reproduction of all natural and aesthetic features. The ceramic technique with OMEGA offers the Dentist not only optimum durability and reliability but also a technique which facilitates work.
As Porcelain fused to metal crown and bridge restorations bonded to a frame cast from range of alloys that include non precious, semi-precious, precious which are nickel free and even palladium free alloys for the sensitive patient with Metal free inlays, On lays, Full Veneer Crowns, or Laminate Veneers.